2021 SBEC Annual Meeting Information 
June 12, 2021 - 10am until 12pm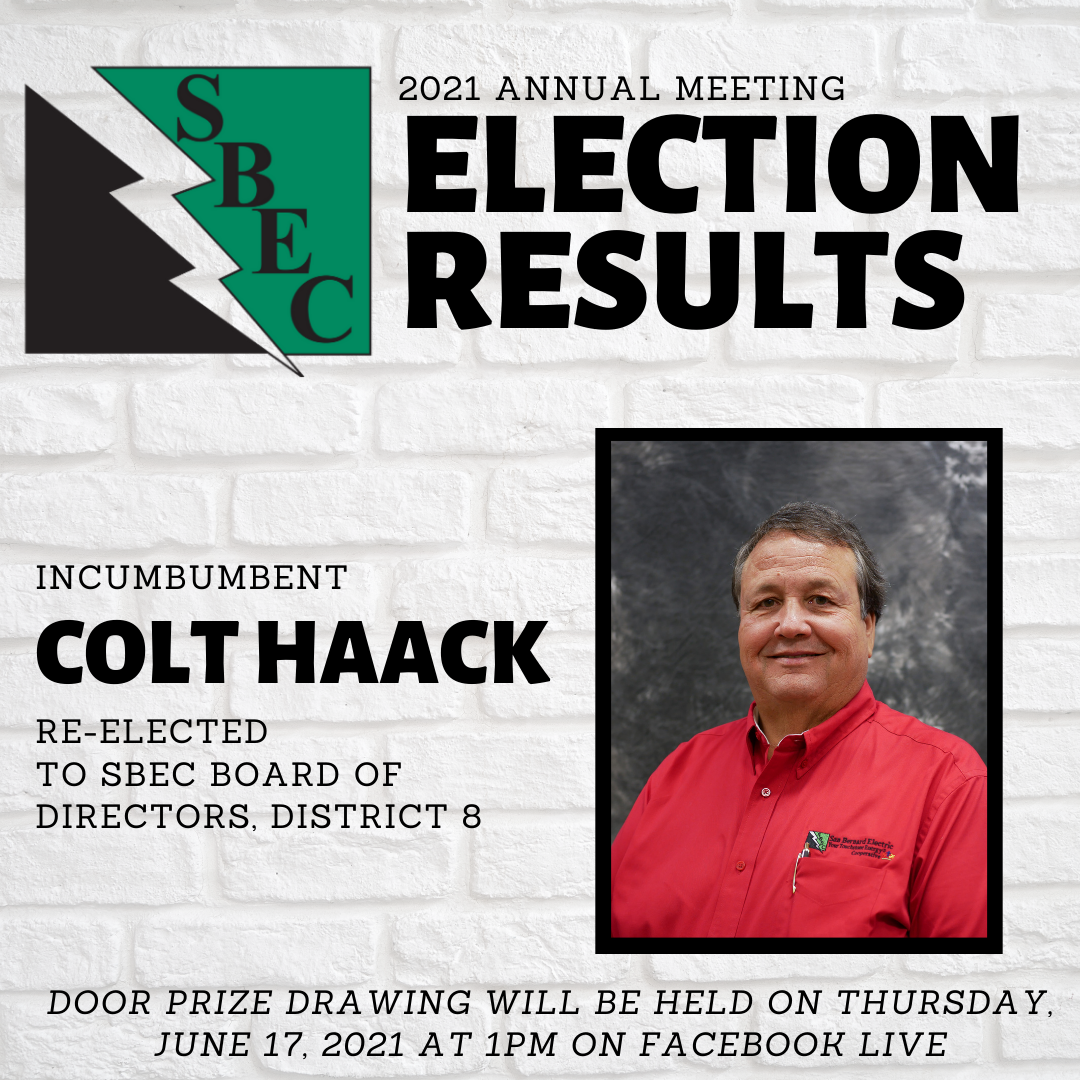 FOR ALMOST 80 YEARS, San Bernard Electric Cooperative has conducted its annual meeting without interruption. While the venue has changed, the agenda has always been the same. We come together as a cooperative and enjoy food and fellowship, followed by a business meeting, elections and a presentation from SBEC's staff and general manager.
Last year the coronavirus pandemic interrupted that tradition. The safety of our members and employees is the highest priority at SBEC, and it quickly became apparent to the board of directors and staff that there was no safe way to hold last year's annual meeting in the usual format, so SBEC leadership canceled the 2020 meeting. 
When planning for the 2021 annual meeting began earlier this year, we had many obstacles to consider. Typically, 600–800 members attend the meeting. Even if the meeting were held at a facility the size of the Austin County Expo Center, there is no way to welcome that many people while observing the social distancing protocols recommended by the Centers for Disease Control and Prevention. 
However, the 2021 annual meeting is too important to be canceled. It isn't just a great opportunity for us to come together as a community, it is also part of the cooperative's core guiding principles. 
Democratic Member Control is one of the seven principles that guide all co-ops, and at SBEC there is no better demonstration of that concept than the annual meeting. While there, members cast their votes for whom they think should represent them on the San Bernard EC Board of Directors, and this year six board members are up for reelection. 
To preserve that member participation while still protecting the health and well-being of our community, SBEC's leadership and board decided to hold this year's annual meeting in a new, drive-thru format. It will work a little differently from our usual event, but it will be just as easy for members to make their voices heard.
There will be four voting locations for this drive-thru meeting format: SBEC's offices in Columbus, Hallettsville and Fields Store and in Bellville, at the Bellville High School stadium parking lot.
Each member will still be included in a drawing for door prizes and will receive our usual annual meeting gift. In addition, every member who registers and votes will be entered to win a $500 prize from their voting location and will be entered to win the $1,000 second grand prize and the $1,500 grand prize. 
We know the changes may inconvenience some members, but rest assured, we are taking every step possible to ensure the process runs smoothly. Registered members will simply drive through and pick up their annual meeting gift, mark their ballot, drop it in the ballot box and drive out. We will have officers present to help direct traffic, and cooperative employees will be positioned along the route to assist in the process. 
By holding a drive-thru annual meeting, SBEC will ensure that our members' democratic control of their cooperative is maintained while also protecting their health and safety. We look forward to seeing all of you at the 80th SBEC annual meeting, 10 a.m. until noon on June 12, 2021. 
There will be no BBQ Meal served at this year's Annual Meeting due to the logistics of four locations. We hope to be back to our normal annual meeting in 2022! 
For our member's convenience, we will have four voting locations in Fields Store, Hallettsville, Columbus, and Bellville. The Fields Store, Hallettsville and Columbus locations will be at our San Bernard EC offices and Bellville's drive-thru will be at the Bellville High School Football Field parking lot.   We have a plan to direct cars through our fenced warehouse locations at our Hallettsville, Field Store, and Columbus offices.   There will be traffic control with marked entrances and exits to help mitigate traffic flow. Maps are available below. 
Bellville
Bellville High School Stadium
1305 S. Tesch St.
Bellville, TX 77418
Columbus
SBEC Office
4285 HWY 71
Columbus, TX 78934
Fields Store
SBEC Office
29244 FM 1488
Hockley, TX 77447
Hallettsville
SBEC Office
1686 HWY 90A East
Hallettsville, TX 77964
There will be no BBQ Meal served at this year's Annual Meeting due to the logistics of four locations. We hope to be back to our normal annual meeting in 2022! 
Message From General Manager, Billy Marricle. 
The 2019 and 2020 Financial Report from Business Group Manager/CFO, Mike Ables.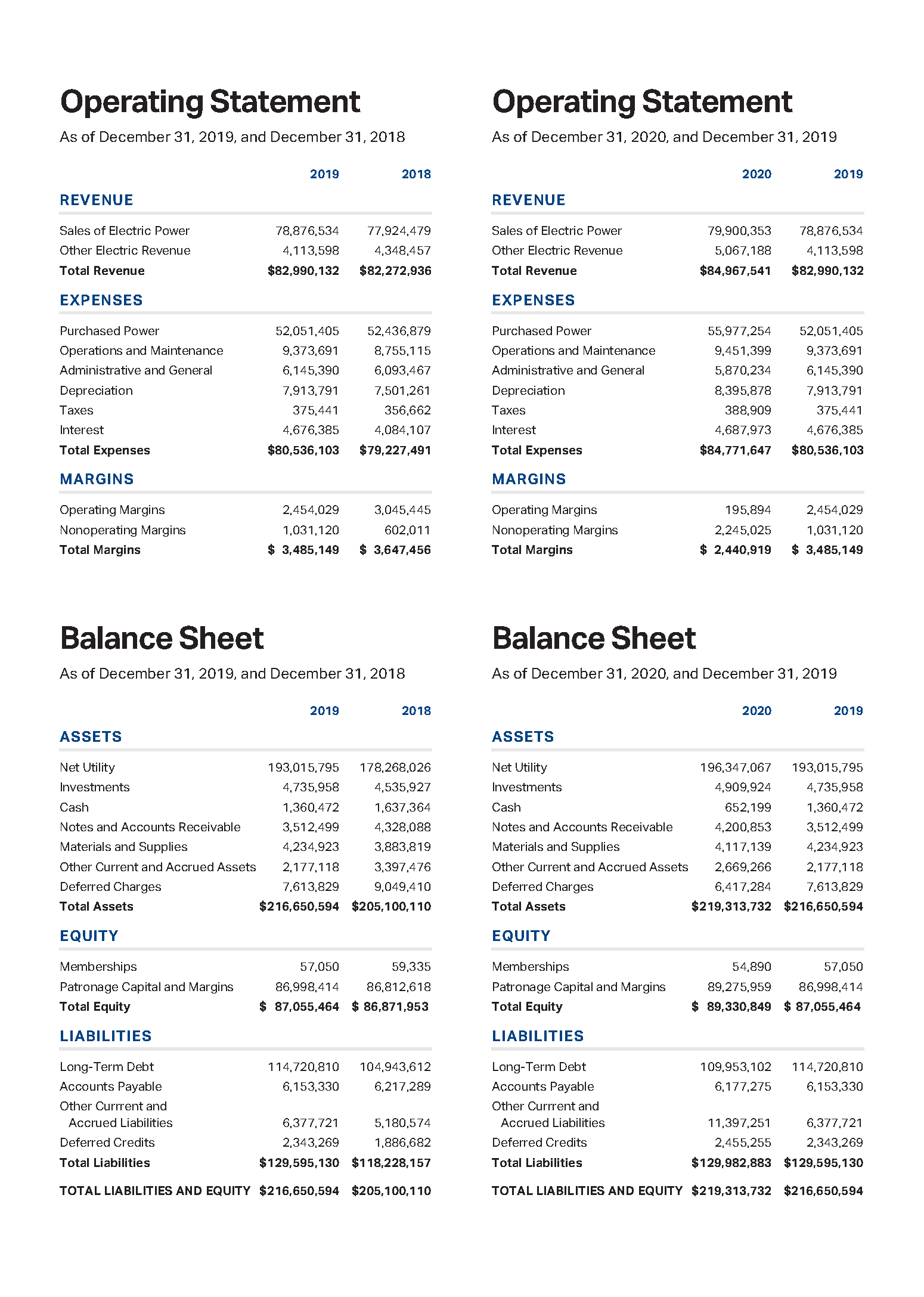 Board District Positions up for Election in 2021:  1, 3, 5, 7, 8 and 9. 
Districts 1, 8, and 9 are held over from 2020 because last year's annual meeting was cancelled due to COVID-19 restrictions. These seats are for the remaining 2 years of the three-year board term. Districts 3, 5, and 7 are part of this year's normal election cycle and will be for the full three-year term. 
District 1: 
Lori Walker
Walker moved to Waller County more than 20 years ago. She prides herself in being a mother, businesswoman, world champion horse breeder and active participant in local agriculture programs. Growing up in Beaumont, she worked alongside her parents in their family-owned and -operated business, where she developed her knowledge on budgeting and finance as well as a strong, resilient work ethic. Walker graduated from Kelly High School and furthered her education at Lamar University. She is the mother of two Texas A&M Aggies, MaClay and Skylor, with whom she has spent countless hours on the road showing horses. Walker and her daughters have together received multiple world championship titles from various associations with their horses. 
Walker is the owner of Skymac Ranch (a portmanteau of her daughters' names). She sees her daughters as her greatest accomplishment and her biggest blessing. Aside from serving on the board of San Bernard EC, Walker also enjoys being a part of the Waller County Fair every year and supporting the youth project shows. Now that her daughters are older, she feels she has more time and dedication to devote to San Bernard EC members and sees her role at the co-op as another way to give back and serve the community she loves.
District 3: 
Bruce Pilcik 
Pilcik has lived in the Industry com-munity his entire life. He is a retired building contractor and rancher. Upon graduation from Bellville High School, he continued his education at Blinn College and received a Bachelor of Science in animal science from Sam Houston State University. He is a member of Immaculate Conception Catholic Church and the Knights of Columbus. Pilcik currently serves on the San Bernard EC Board of Directors and would like to continue to represent the members of District 3. His main objective is to provide the most reliable services at the most reasonable prices to SBEC members.
District 5: 
Sammy Condra
Condra has been a resident of Bernardo for 33 years and is the owner of Condra Communications in Columbus. He graduated from the Institute of Electronic Science at Texas A&M University in 1978. He worked in the utility business before and after graduation and brings this lifelong experience to the San Bernard EC Board of Directors. Condra is a member of St. Roch Catholic Church, the Bernardo Volunteer Fire Department and St. Roch Knights of Columbus Council.
District 7: 
Charles Matula
Matula is a Hallettsville native and has been a San Bernard EC director for the past 23 years. After graduating from Sacred Heart Catholic High School, he continued his education at Texas A&I University (now Texas A&M University), where he received a Bachelor of Science degree. Following graduation, he entered the oil and gas industry, where he worked for the past 40 years. Matula is an active member of the Sacred Heart Catholic Church in Hallettsville. He has served the church and his former high school in many capacities, including as church counsel, usher, cook for the picnic stew and Sacred Heart football coach.
He will utilize his experience in the oil and gas industry and dedication to the community to help SBEC continue to deliver reliable and safe electric service in today's ever-changing economic environment. He would like to continue to serve as a director of SBEC to help maintain the co-op's consistent and reliable system. He will help ensure that this cooperative meets today's energy needs while also planning for the future.  
District 8: 
Colt Haack, Incumbent
Haack and his family are lifelong residents of Waller County. After graduating from Hempstead Independent School District, Haack attended Blinn College and then went on to Sam Houston State University, majoring in finance and graduating with a business degree. For 28 years he has been the broker and owner of Coldwell Banker Properties Unlimited in Waller.
Haack and his wife, Laney, have two children, Rowdy and Callie. Rowdy received a degree in economics from the University of Texas and recently graduated from Southern Methodist University Law School with honors. He is now an attorney in the office of the Texas attorney general. Callie is a sophomore at Hempstead High School, where she lettered in softball her freshman year.
Haack is a board member of the Waller County Chamber of Commerce. He also supports many auctions and fundraisers in the community, including those of the Waller County Fair Association, Waller County Little League, Hempstead Little League and many others. 
Haack has served as District 8 director for seven years and has taken many classes to learn more about the power industry. He earned the Director Gold credential from the National Rural Electric Cooperative Association. He says he considers it an honor to serve on the SBEC board and will continue to represent his district and the cooperative to the best of his ability.
Sylvia Cedillo, Challenger
Sylvia Cedillo is a practicing attorney dedicated to serving every day people in the San Bernard Electric Coop service area. Sylvia served as a Waller County Commissioner from 2009-2012. Prior to that she served on Prairie View's City Council. Her practice includes helping consumers and victims of land fraud. In 2000, she founded a sexual assault/domestic violence prevention program at Prairie View A&M University. Beginning in 1996, she established a statewide bullying and sexual harassment prevention program. Sylvia is an active member of St. Francis of Assisi Episcopal Church. 
District 9: 
John Allen
Allen and his wife, Cathy, have lived and raised their family in rural Waller County since 1999. They have four children: Clayton (Waller High School class of 2008 and Texas A&M University class of 2012), Gabrielle (Waller High School class of 2014 and Texas A&M class of 2018), Hannah and Cullen (Waller High School class of 2016). 
Allen has more than 20 years of experience in the field of education, serving with KIPP Houston Public Schools as deputy head of schools. Before working for KIPP, he managed eight high schools as a school improvement officer for the Houston Independent School District. He also served as a high school principal, associate principal and teacher in the same district. 
His formal education includes a Bachelor of Arts in political science from Stephen F. Austin State University and a Master of Education in educational leadership from Prairie View A&M University. He is also a graduate of the Houston A+ Leadership Academy and Harvard University's Institute for Redesigning America's High Schools and a course called Improving Schools: The Art of Leadership. 
One of Allen's proudest professional accomplishments was being named Houston ISD West Region Secondary Principal of the Year in 2009.

Additional Information about the elections can be found here the April and June issues of the Texas Co-Op Power.
There will be no BBQ Meal served at this year's Annual Meeting due to the logistics of four locations. We hope to be back to our normal annual meeting in 2022! 
Please make sure to bring your Registration Card  from the cover of your June Issue of the Texas Co-Op Power! This is not only your registration card, but also your door prize ticket for our many door prizes!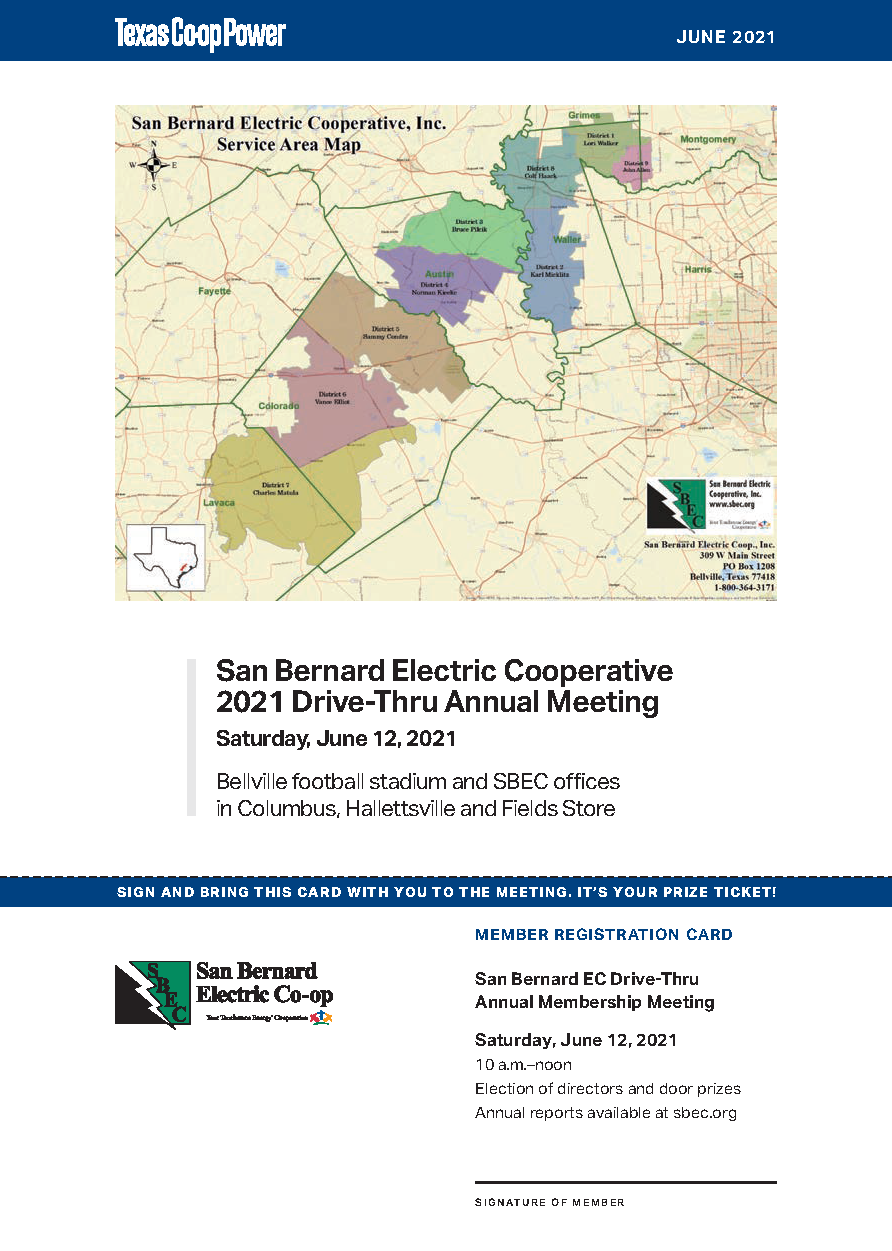 There will be no BBQ Meal served at this year's Annual Meeting due to the logistics of four locations. We hope to be back to our normal annual meeting in 2022! 
The 2021 Annual Meeting Door Prizes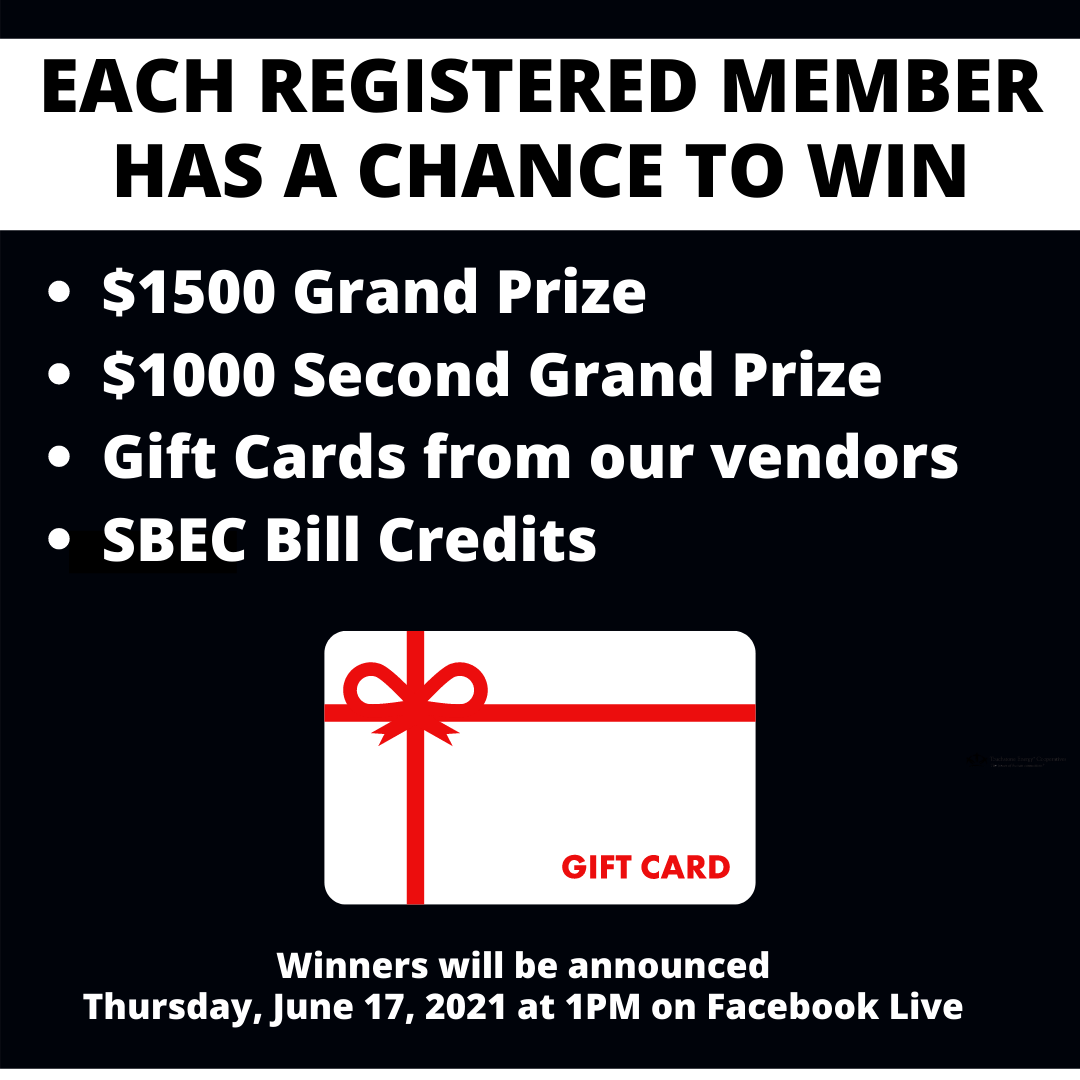 Every member that is registered will receive an Annual Meeting Gift the day of the event. 

DRAWING WILL BE HELD ON THURSDAY, JUNE 17, 2021 at 1PM on FACEBOOK LIVE! 

Winners will be announced on FaceBook Live and a list will be at each office. Winners will be contacted beginning Friday, June 18th.

YOU MUST COME AND VOTE IN ORDER TO BE ELIGIBLE FOR ANY PRIZES. 
Remember, your REGISTRATION CARD is your Door Prize Ticket and can be found on the cover of your June Texas Co-Op Power Magazine. 
Thank you to all our 2021 Door Prize Sponsors!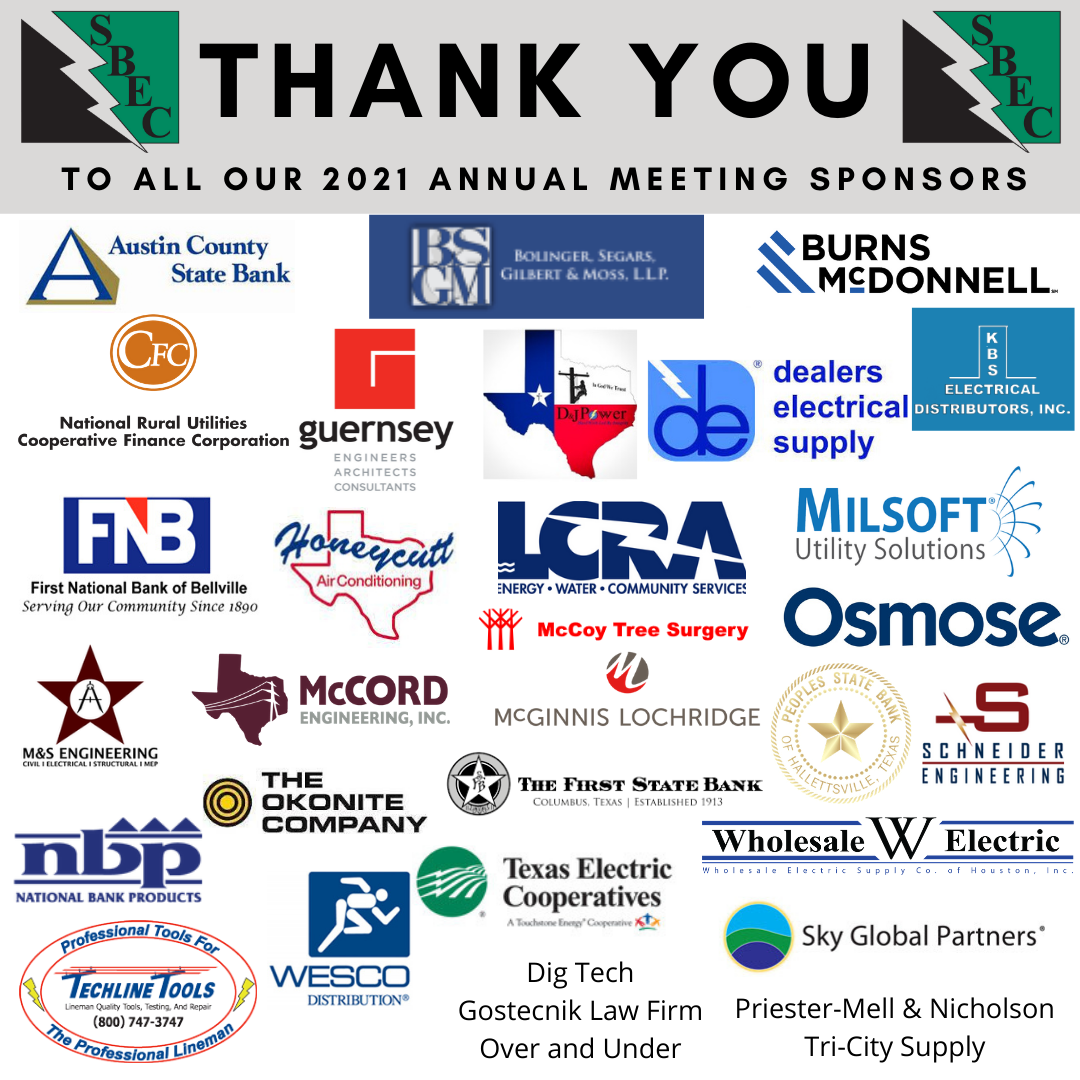 There will be no BBQ Meal served at this year's Annual Meeting due to the logistics of four locations. We hope to be back to our normal annual meeting in 2022!